Destination weddings in India are hosted since 15 years. However the concept of destination weddings has its inception in the West which has influenced destination weddings in India. Rajasthan & Goa where the initial destinations which were mostly a favorite amongst couples given to the charm of Palace & Fort Weddings in Rajasthan and beauty of beach weddings in Goa.As the concept of Destination Weddings is penetrating, many couples residing in India are excited to experiment with the idea which was earlier limited to NRIs only.
As the demand rises the scope for other Destinations to host weddings are expanding. Indian couples are excited to host weddings in destinations with scenic beauty, that's how the hill stations like Shimla, Kasauli, Manali in Himachal and Nainital, Musoorie DehraDun in Uttarakhand are gearing up to host Himalayan Weddings. Similar demands are made by NRIs from UK, USA, Canada etc. Not just this, couples are also taking a step ahead to host weddings at Offbeat Destinations. Ranthambore, Corbett, Bharatpur alike places which are famous for Jungle safari are also utilized for hosting Destination Weddings. Forest camps, resorts are getting popular in hosting pre-wedding functions and get-together parties.
It is fact that Destination Weddings are expensive, but that doesn't mean it is always meant for the rich & affluent. Where there are many advantages of a Destination Wedding, there are certain limitations too. Couples and their families should keep in mind the Limitations when deciding to host Destination weddings in India. Learning these Limitations could help a couple and their families to understand When, Where & How to host Destination Weddings in India.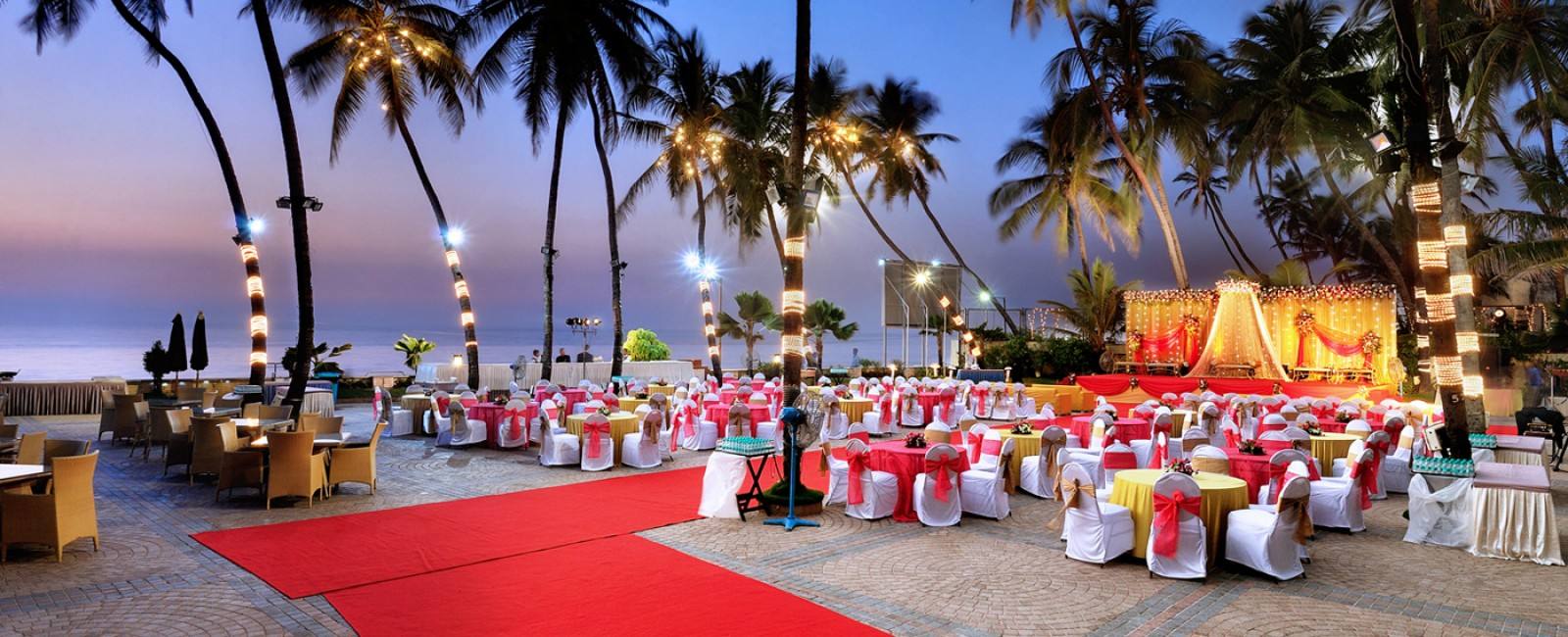 Following is the Overview of Advantages & Limitations While planning Destination weddings in India:
DESTINATION WEDDINGS IN INDIA: ADVANTAGES
Be it simple or grand, at a Beach or Fort, Destination weddings are a hot in trend with the Indian couples. It's FUN planning a Destination Wedding in India, Read on…
1)Relaxing Holiday
Wherever you wish to plan, it gives you and your guests a reason for getaway, enjoyment yet relaxation for a few days outside hometown which is exciting and welcoming of a new experience at the same time.
2)Cost Effectiveness
As the guest list shrinks, so will your costs. Alternatively, as the guest list shrinks, you may be able to spend more for a lavish event.
3)Grooms like to get involved
Whether it is deciding on gift bags or coordinating guest outings, grooms seem to be more involved in destination wedding planning. Specifically, grooms enjoy organizing the smaller events such as day outings and happy hour mixers.
4)One-in-one time with Guests
Destinations tend to be smaller, more intimate events. They also tend to last a few days, giving you and your intended plenty of opportunity to spend time with your guests. Although not all of your invited guests will be able to travel due to scheduling and budgetary concerns, those who can attend interact more with each other and their hosts than at a traditional wedding.
5)Leaves you lifetime memories
Imagine the photo album, straight out of a magazine, that you and your intended will enjoy forever.
6)Start the Honeymoon Early
The honeymoon starts as soon as you are pronounced husband and wife. Once your guests have left island, stay a few days and honeymoon, or if you are on a cruise ship, sail into the sunset. Because you have already arrived at your honeymoon destination, you can consider the transportation expenses associated with honeymoon travel already paid.
DESTINATION WEDDINGS IN INDIA: LIMITATIONS
Limitations on Destination weddings depends on certain criteria's and requirements of a couple based on a certain budget. Read on…
1) Pro's & Con's of Chosen Destination
The follow up for your entire wedding functions depends on the choice of your desired destination for the wedding. This is a very vital criteria and decision on this should be taken wisely. For Example: If the couple is a resident of North India and wish to celebrate their wedding in the backwaters of Kerala. It is really important for the couple to understand the Pro's & Con's of hosting their wedding at this level of proximity. However a couple can celebrate their Destination Wedding anywhere in India according to their wish, but making a wise decision in this could be better paid –off.
2) Climatic variations of the Season
Season is another criterion when planning a Destination Wedding in India. Climatic conditions may differ from place to place in different seasons. For Example: If a couple is planning to celebrate their wedding in the Musoorie Hills in the month of July or August, which are noted period for monsoons, may not be a proper season of hosting the wedding. Even if the wedding functions are arranged in the banquet of a Hotel/Resort, the charm of Destination wedding is lost, if the celebrations could not be planned outdoor amidst the backdrop of the hills.
3) Cut-Off the Number of Guests
It may sound rude, but Destination Weddings are not for everyone. Only family, close relatives & friends could be the invitees in the Destination Wedding celebration. Your guest list may range from minimum 50 to 150 people maximum. However you can also invite more guests if you are willing to spend more on the logistics of the planning as well as paying your wedding planner well so that they can handle more pressure.
4) A 4* Property cannot be hired at the price of a 2* for Guest Accomodation
A Destination Wedding can be only celebrated in a Hotel/Resort that has ample space for hosting wedding functions at ease. A hotel/resort with lawns, terrace gardens, pool areas are much appreciated in such cases. Anyhow a couple has to choose from 3*/4*/5* properties for these functions as 2* properties might not have such facilities. A couple can arrange accommodation for their guests in many ways. For Example: A couple can choose from 3*/4* or even 5* properties for guest accommodation, if they are willing to spend. For couples who are on a classified budget can choose from 2* properties to accommodate their guests and host functions at 5* properties close by.
*If hiring a wedding planner to make such arrangements couples should be clear with their choices. For Example: Do not expect a planner to get a 4* property at the price of a 2*. This is a misconception that a planner can get everything done at the best price or more frankly 'low price'. Couples shall understand that best price doesn't mean buying diamond at the price of silver. It is true that a planner can arrange things at a better pricing, but not at the cost of their own pocket. No Hotel/Resort shall compromise with the pricing at a risk of loss. Planners can't accommodate extra guests for FREE unless they own the hotel/resort.*
5) Co-operation of Couples at times of Contingency
Whether or not you have a wedding planner on board, Destination Wedding planning is a much stressful task. Your wedding planner is a guide, support & shield to all the assistance you need and the stress you feel in planning your Destination Wedding. They take-off the burden of stress from your shoulders so that you relax and enjoy the festivities. Right from the site-inspection to preparation of your guest lists, booking hotel/resorts at the destination of your choice, receiving your guests, planning for the wedding functions, planning for décor, F&B, Entertainment, transportation, a wedding planner spends sleepless nights so that every arrangement of the wedding functions are near to perfect. Couples shall cooperate with the planner in the cases of contingency.
For Example: An unexpected rainfall in the month of December when planning a sangeet ceremony in the open lawn of a palace in Rajasthan is not a planner's fault. In such cases cooperation of couples are expected and appreciated.
6) Balancing the Budget in accordance with requirements
The most important criterion that relates to all the above mentioned norms. The budget of a Destination Wedding shall depend on the choice of destination & requirements made by the couple. For Example: one cannot expect a palace wedding in Rajasthan with over 150 guests and 3 days festivities at a limited budget of RS 30 LACS per se. Couples need to compromise on either of their guest list or limit the days of festivities or their choice of accommodation to match the budget. Couples shall proceed with their requirements of their choice of Destination, accommodation, number of guests, planning & logistics only after having a comprehensible idea of their wedding budget.
This does not mean affordability in anyway. For Example: If a couple has a Budget of RS 10lacs for a Himalayan wedding in Shimla, they need to understand the limitations of the requirements scaling with the budget.